Workshop
The core competences of AMF are quite large: from design of your devices, up to the final mechanical testing. This also includes all the transformation steps, such as rolling, wire drawing (0.10 – 5 mm), shape setting, machining (EDM), grinding, polishing (tribological and electro-chemical).
Staple Workshop
Bending station for small to mid – quantity series of staples

Thermal treatment station and functional testing equipment of the staples
Mechanical Workshop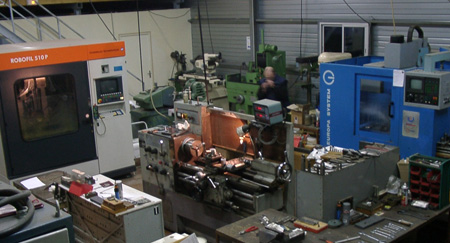 EDM cutting (associated to a high speed electrode EDM drilling) is the best solution for complex shape cutting of Nitinol flat products.
We have more than ten standard machining tools, both manually and NC controlled. All are dedicated to the Nitinol processing.
Melting & transformation workshop
The standard Nitinol alloys are sourced at ATI Wah Chang (US)
Nitinol transformation workshop includes:
4 rolling mills

1 drawing equipment (D = 0.1 à 5 mm)

5 annealing furnances

6 tribological polishing machines

2 sand blasting stations